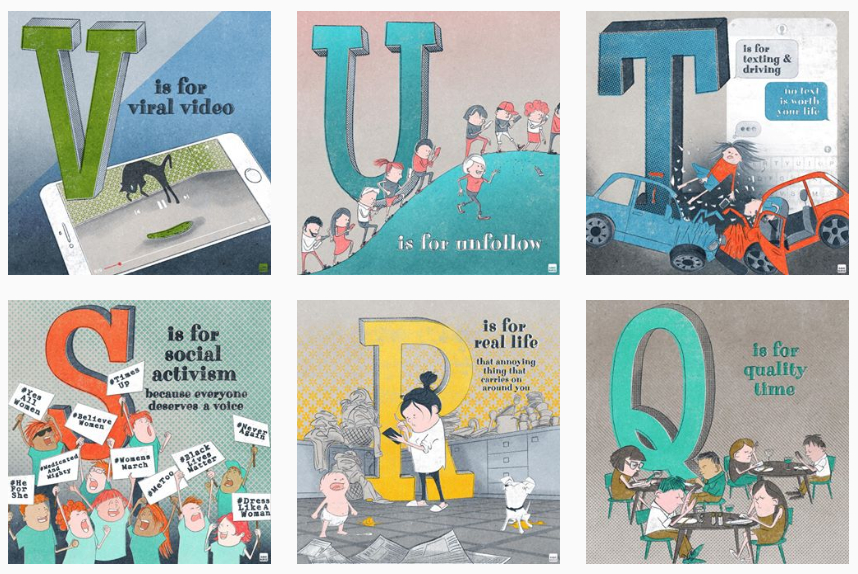 ¿Pasas horas y horas pegado a tu smartphone? ¿No eres capaz de levantar la vista del teléfono para mirar a tus semejantes? ¿Te entran los siete males si estás horas sin entrar en Instagram o no recibes más de 100 likes en una foto? ¿Estás pensando constantemente en dónde hacerte tu próximo selfie?
Si has contestado sí a la mayoría de estas preguntas, es que eres un auténtico adicto a tu teléfono móvil. No te preocupes, porque no estás solo. Hoy en día todo el mundo lo es. Aunque salir de esta enfermedad no es fácil, tiene cura. Solo tienes que tratar de estar más en el mundo real que en el digital y dejar de pensar que lo verdaderamente importante en la vida no ocurre en una pantalla.
Si no crees ser adicto al smartphone, quizás necesites que alguien te recuerde la cantidad de situaciones de tu día a día en las que acabas vinculado a tu teléfono móvil. Eso es precisamente lo que hace este proyecto del estudio Uproot,de Abbie Nurse. The ABCs of Living With Social Media es un alfabeto ilustrado en el que cada letra representa una situación, característica o actividad que nos ata a los móviles o las redes sociales.
Asi, la A es el autocorrector, la D es para la duckface (poner morritos en las fotos), la E es para emoji, la I es para Instagram, la L es para likes, la U es para los unfollow, la V es para los virales, la W es para el WiFi y la Z es para los zombies del smartphone, por poner algunos ejemplos. Puedes encontrar el abecedario completo aquí debajo.
Periodista especializado en tecnología y cultura. Co-fundador y responsable editorial de
Applicantes
. Colaborador de Muy Interesante, Forbes, la agencia SINC, Business Insider, Escudo Digital, Itespresso, Merca2 y laBerrea89. Amante de la fotografía, el cine, los comics, los viajes y el buen humor.
Seguir a @albertopayo
Últimas entradas de Alberto Payo (ver todo)